The Thrive Peer Educators are a team of undergraduate students who work for the Department of Health Promotion at the University of Denver's Health & Counseling Center. This passionate group of about 20 paid student leaders strives to promote the health and well-being of the DU campus community through health education and engagement, developing programs and implementing outreach efforts to address sexual health, mental health, alcohol & other drug education, and gender-based violence prevention.
Thrive Peer Educators serve as HCC ambassadors, act as liaisons between the DU community and health professionals, and facilitate Intervene: DU — a required active bystander intervention training for all new undergraduate students. This paid position requires a one-year commitment of 30 to 40 hours per quarter, with offers typically extended for students who are not graduating.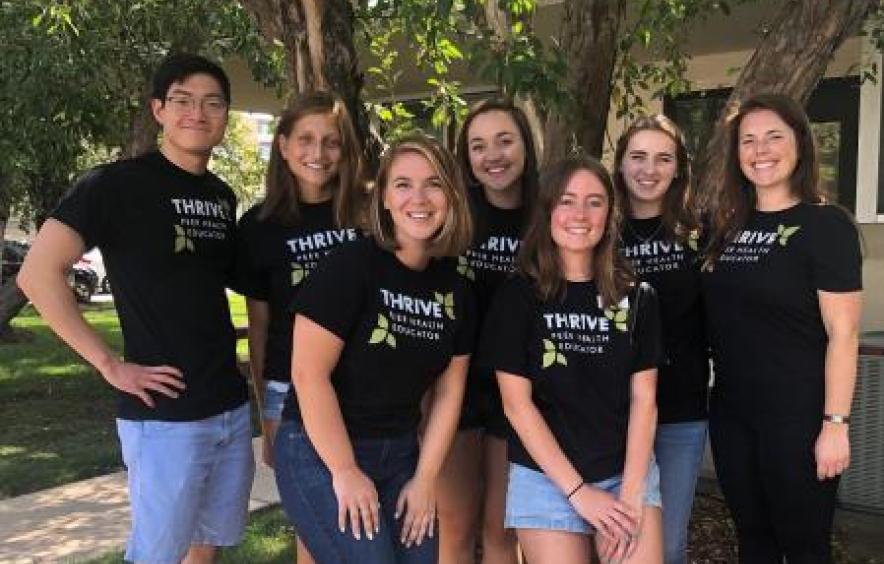 Become a Thrive Peer Educator
The Thrive Peer Educator team interviews and hires new members in the winter quarter each year. Applications for 2022–2023 are now closed. Please check back in early 2023 when we'll begin accepting applications for the 2023–2024 academic year.
For more information on applications, or if you have questions about the program, please email hcc.thrive@du.edu.
Meet Our Thrive Peer Educators
Luke Fish: Team Leader
Pronouns: He/Him/His
Major: Psychology
Personal Interests: Musical theatre/performing and all contained fields, board games, video games, baking, and guitar
Tarini Sharma: Team Leader
Pronouns: She/Her/Hers
Major: Economics
Minor: Psychology
Other Campus Activities: Engagement Assistant at the Burwell Center for Career Achievement, Happy Tampers
Personal Interests: Reading, doodling, and aggressively headbanging
Zainab Alikhan
Pronouns: She/Her/Hers
Major: Biochemistry
Minor: Leadership Studies
Other Campus Activities: HRE Residential Assistant, Doctors Without Borders, FeelGoodDU, PreMed Club
Personal Interests: Trying new restaurants, yoga, playing frisbee
Caitlin Clemens
Pronouns: She/Her/Hers
Majors: International Studies, Geography
Minors: French, Sustainability
Other Campus Activities: Officer, National Society of Collegiate Scholars (NSCG)
Personal Interests: Hiking, skiing, reading, going on adventures
Peyton Howsden
Pronouns: She/Her/Hers
Majors: Biology, Criminology
Minors: Chemistry, Psychology (Cognitive Neuroscience), Health Sciences
Other Campus Activities: Panhellenic Executive Board, Gamma Phi Beta, Pre-Health Society, Alpha Phi Omega Service Fraternity, DU Programming Board, Club Lacrosse Team
Personal Interests: Yoga, lacrosse, hiking
Caroline Kemp
Pronouns: She/Her/Hers
Major: Sociology
Minor: Wellness Studies
Other Campus Activities: Member & Philanthropy Assistant of Delta Zeta Sorority, Happy Tampers
Personal Interests: Fashion forecasting, swimming, popular culture, hiking, wellness, baking, meditation
Sam Levering
Pronouns: She/Her/Hers
Major: Anthropology
Minor: Leadership
Other Campus Activities: Chi Omega Sorority, DU EMS, and Pioneer Leadership Program (PLP)
Personal Interests: Baking, yoga, reading, travel, listening to music, watching tv, and mochas