One of the most valuable resources provided by the LEP is access to tutoring for 1000 and 2000 level courses. The LEP employs over 50 tutors including graduate students, professionals, adjunct professors, and upper division undergraduate students. Tutoring can be scheduled seven days a week between 8 a.m. and 10 p.m. All costs are included in the LEP fee, and the program is certified by the College Reading & Learning Association.
You must be currently enrolled in the Learning Effectiveness Program to utilize our tutoring services.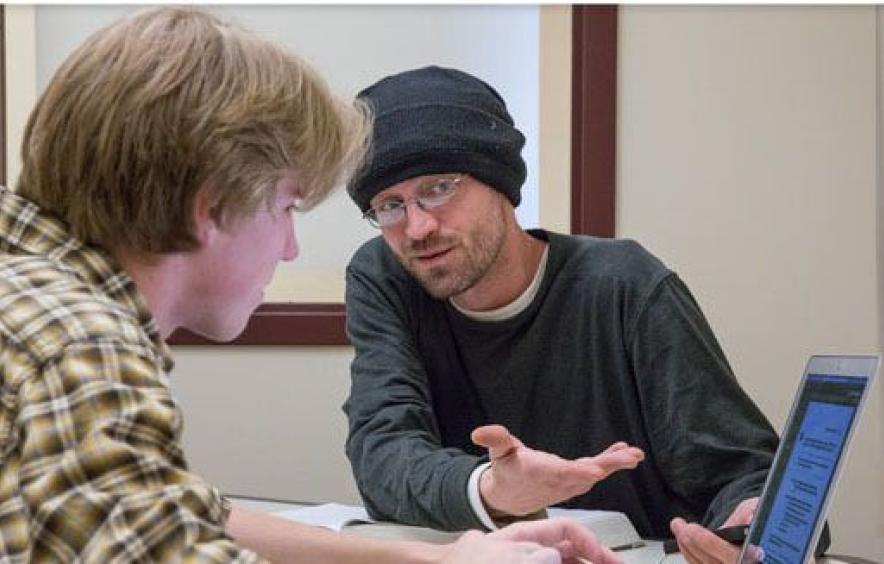 What LEP Tutoring is All About
LEP Tutoring strives to empower you to take an active role in your learning process, and instill within you a sense of confidence and independence as we guide you to become more effective learners. What does this mean for you?
Tutoring is an opportunity that can empower you to make the best decisions for your own learning and success.
This is your learning and your college journey — tutoring gives you a chance to proactively obtain the support you need.
Tutoring doesn't only provide help in areas where you struggle; it can also help you discover your strengths. Working with a tutor will build your academic confidence and set you up for independence on your academic journey.
Your tutor is your guide — a partner in tackling academic challenges. Use them as a resource!
Six Core Tenets of LEP Tutoring
Real tutoring takes time. Tutoring is most effective when you and your tutor meet regularly to review class content.
The student drives the content of tutoring appointments. It is your responsibility to communicate to the tutor what you need extra help with. Do not expect the tutor to teach you course content. They are there to help supplement your understanding of the course material, not act as the instructor.
Tutoring can help everyone. Even if you aren't struggling in a class, tutoring provides extra practice with the help of an expert in that subject.
Students are responsible for knowing policies and procedures. You should understand how to cancel an appointment, contact your tutor, and look for new tutors.
Tutoring is one resource to accomplish your goals. We expect that you will put in time outside of tutoring sessions to learn the course content. It is expected that you are attending professor's office hours, completing homework before attending tutoring sessions, going to review and group study sessions, reading textbooks, accessing DU's learning centers, and studying on your own to accomplish your academic goals.
LEP Tutoring is not a substitute for studying, going to class, working through problems, or completing assignments; nor is it time for someone else to do your homework, complete your equations, or write and edit your papers.
How to Prepare for a Tutoring Session
Your LEP Academic Counselor will support you with these steps to preparing for tutoring!
Be familiar with the course syllabus. Know your instructor's expectations for the course, due dates, assignments, etc.
Know deadlines for your classes. Plan when you will complete your assignments and study for tests.
Set goals. The most productive tutoring appointments happen when students email tutors a goal beforehand, and show up knowing exactly what they hope to accomplish.
Talk to your professors to get feedback and direction on assignments and tests. This will help your tutor provide the best possible support.
Becoming a Tutor
Tutoring opportunities at LEP are variable, as tutors are hired based on the needs of our student population. If we don't have any open positions at the time of your inquiry, we'll add you to our prospective tutor list to contact you when a position does open up (which can happen quite suddenly).
If you are interested in applying for a tutoring position, please click here to go to the Student Employment page.
For questions regarding tutoring positions, please contact LEPtutoring@du.edu.